Hello!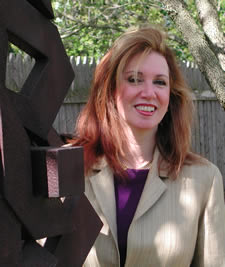 My name is Sardi Snyder. Since 1979 my company, originally known as Sardi Associates Inc. and now JRSS Art Resources Inc., has been providing art and sculpture to the corporate, trade and private communities.
JRSS Art Resources is a professional, full service, art consulting and resource firm. We specialize in the selection, procurement, and placement of original artwork and framing for corporate, healthcare, residential and investor environments.
With direct access to the art inventories of prominent galleries, artists studio's, art publishers, and slide registries JRSS Art Resources provides our clients with investment & decorative artwork in traditional or contemporary modes.
JRSS Art Resources Inc has the unique distinction of exclusively representing John Roper Sculpture . As art agents for John Roper, and a repertoire of talented artists we have the opportunity to advise them in the direction of their careers by introducing their art for sale via professional promotions, presentations to our trade professionals, public and gallery exhibitions.
Many years of experience have provided me with an understanding of art, style, quality, and the ability to know my clients discerning tastes. And now, I invite you to view and enjoy the sculpture of John Roper.
Thank you!